I hope you are enjoying what is left of the summer season and managing to stay safe whether it be from a virus, intense heat, or forest fires, and smokey skies. From this side, it seemed like a good time for a website and logo refresh. If you find yourself clicking around, I do hope you find the update clear and crisp, and friendly to navigate.
When it comes to planning, most organizations believe they should do strategic planning. After all, the old saying 'failing to plan, is planning to fail' often rings true.
But others don't feel it is of value. They might say, "We did a strategic plan a few years ago and we don't even know where it is." or, "We never refer to it, it just collects dust."
It pains me to hear this because all of the hard work that went into creating this valuable resource, not to mention the cost, is just going to waste!
If your strategic plan isn't front and centre; if it isn't implemented as a central element of operations, reporting, management & board meetings, it's not doing what it should. It is not FUNCTIONAL!
I believe the process of functional strategic planning begins with discovery and engagement, and ends with formal implementation and ownership.
Here's how we do it at Frank Growth Solutions: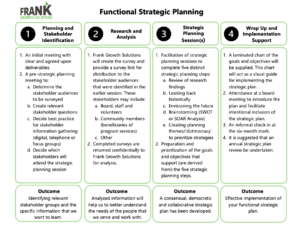 Four steps beginning with discovery and engagement, and ending with implementation and ownership.
The plan 'functions' in three specific areas:
A road-map giving direction to the organization to help it continue to be a sustainable mission-driven nonprofit that creates a better future for its community.
A structure of accountability for senior management to act as a guiding light that was collaboratively reached with the responsible stakeholders
A framework for general reporting to the Board of Directors with key performance indicators, timelines and ongoing relevance
So, if you have a strategic plan, I'd suggest you dig it out. If it's still relevant, implement it, give it life, report on it at your board meetings, and make it a central point to your organization.
If you don't have a strategic plan, I'd suggest you find an external facilitator to help you through the process. Invest the time, energy, and money and make it a functional part of your organization – it can be a great asset clearly illuminating the path forward toward intentional goals and outcomes!